Once, there was a family who had always loved Labrador Retrievers. In fact, they loved them so much they had previously had 3 different dogs. Mommy & Daddy had Nicki & Zeke before the kids were born. Both dogs lived a very spoiled life and were loved very much.
This is Nicki. Nicki was Daddy's dog before Mommy was even around. Nicki slept in Daddy's bed....she was spoiled rotten!! Nicki lived a very long life....she fell asleep in her backyard & never woke up. The family still misses Nicki!
This is Zeke. He was so crazy!
Zeke lived until he was about 12....he had diabetes & was very sick. The family was very sad to lose him!!
As you can see, Nicki & Zeke were great friends. They had many fun times together.....some of them Mommy tried to forget!!
Then, the family got a puppy. They named her Shelby. She was sooo pretty.
Shelby died unexpectedly last October & the family was very sad. They said they would never get another puppy again. About 8 months later, the family was watching "Marley & Me." We could relate to Marley--Zeke tore up a couch just like Marley!! Anyway, Mommy started looking for a rescue shelter where the family could get an older dog. It took several months, but the family finally got to meet 3 dogs.....they all looked like Shelby. The family decided which one they wanted. Before they left, the people who ran the shelter wanted to show them another dog. Apparently, the people thought the kids were very well behaved & wanted to "test" this dog. The dog was named Lance & he had a sad story.....he had been thrown into a pit bull ring, but thankfully, someone found him wondering the streets with wounds & took him in. The family immediately fell in love with Lance. Then, about a week later, Lance joined the family in his new home.
This is the day the family got Lance....isn't he beautiful? He is sooooo sweet. We love him very much & are glad that he joined our family. If you are looking for a dog, then consider adopting a dog from a shelter.....they need someone to love them!!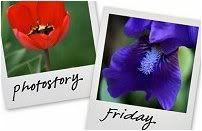 Hosted by Cecily and MamaGeek