I don't have many memories of my grandfathers. Both of them were gone from my life when I was pretty young. One thing I do remember was that my Pop (my Dad's dad) would always ask me: Have you ever had a horse bite? I knew what was coming but I would always say NO! & he would grab my leg & I would be reduced to hysterics. Pop was always making me laugh!!
Cheney & Chandler are so lucky to have both sets of grandparents in the same town. They enjoy spending time at their houses. I know that they are making many memories!!
The other day, the kids were going to take showers. They wanted Pop to carry them like a sack of taters!!
No matter what they do at MeMe & Pop's house, I know they are always going to remember the fun that they had there!!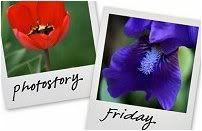 Hosted by Cecily and MamaGeek