The other day, we were in the dentist waiting room. Cheney was playing video games & Chandler was bored. I gave her my camera to entertain herself. Pretty interesting....
...and a picture of her Mama.
This lady really intrigued Chandler....she had a baby in her tummy. Chandler has never really been around a pregnant person so she spent lots of time studying her. I guess she decided she needed a picture of her too.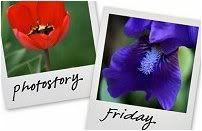 Hosted by Cecily and MamaGeek