There was once this beautiful tree in a backyard....
...this really sweet 7 year old.
This sweet little boy wanted a tree house. He has wanted a tree house for a long time....
This is that sweet little boy's really cool Daddy. This Daddy always tries to make his family happy. If you know this Daddy, you know that he likes to do things & do them BIG!!
This is the telephone pole that was put into the backyard....
And this is the beginning of the really cool treehouse for the really sweet 7 year old that the really AWESOME Daddy is building!!
And all Mommy does is shake her head....and smile....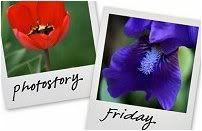 Hosted by Cecily and MamaGeek